CanonPriceWatch.com
Price Watch and Comparison for US Consumers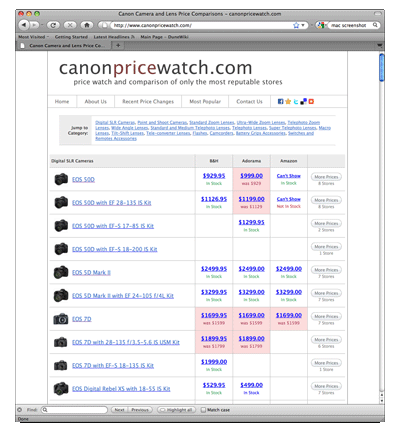 Over the last three years we've been happy to build PhotoPrice, which has quickly become one of the most popular resources for Canadian photographers. Our core values are part of the reason behind the success: we strive to provide useful and accurate price and purchasing information, list all reputable stores with competitive prices (not just ones that sponsor us), and keep our site simple while still delivering that useful information!
We're bringing these core values to the table with the creation of our newest project, CanonPriceWatch.com. We recognize the need for a high quality price watching and price comparison website for the US market -- one that, like PhotoPrice.ca, shows only the most reputable stores with competitive prices, with accurate pricing information that updates hourly. We've designed an intuitive list format for quickly finding and watching prices, centralized on a single page per brand. Canon is first. (Sorry Nikon fans, but don't worry, you're next.)
So if you're in the US and looking for Canon equipment, hop over to CanonPriceWatch.com. If you're a Canadian, please do tell your US friends, and then continue using PhotoPrice.ca. Thanks for the support over the last three years.
Gordon
April 2010
Return to PhotoPrice.